Regular price
$0.00 USD
Sale price
$18.00 USD
Unit price
per
Sale
Sold out
Introducing our premium acai oil - a natural and luxurious skincare solution for those looking to enhance their skin's radiance and health. Our acai oil is derived from the antioxidant-rich acai berries that grow wild in the Amazon rainforest.
This 100% pure acai oil is carefully extracted from the seeds of the berries using a cold-pressed method, ensuring that the natural benefits of the fruit are preserved. Our acai oil is rich in antioxidants, vitamins A, C, and E, and essential fatty acids, all of which contribute to its moisturizing, nourishing, and rejuvenating properties.
The lightweight and non-greasy texture of our acai oil makes it perfect for all skin types, from dry to oily, and even sensitive skin. It deeply penetrates the skin, promoting cellular renewal and helping to minimize the appearance of fine lines and wrinkles.
Our Acai Berry Oil is also delicious and easy to use. It has a rich, fruity flavor that can be added to a variety of dishes, from smoothies and juices to salad dressings and marinades. It can also be used as a healthy alternative to traditional cooking oils, as it has a high smoke point and can be used for sautéing or baking without compromising its nutritional value.
Our acai oil is also great for hair care. It helps to nourish and strengthen hair, promoting healthy growth and adding shine to dull and lifeless hair.
Our acai oil is sustainably sourced and ethically produced, ensuring that our customers get a high-quality product that is both environmentally friendly and socially responsible. It is also vegan, cruelty-free, and free of harmful chemicals, making it a safe and natural skincare option.
Incorporate our acai oil into your daily skincare routine and experience the natural and transformative benefits of the Amazonian superfruit.
Product Specifications:
Store in a Cool, Dark place, away from sunlight.
Smoke Point: 397 Degrees (Fahrenheit)
Serving Size - 1 TBSP (15ml) 
Calories - 123
Total Fat - 13.6g 
Saturated Fat - 1.5g
Polyunsaturated fats - 9.4g
Monounsaturated fats - 2.7g
Omega 6 - 9.4g
Omega 9 - 2.6g
Sugars - 0g
Additional Info
Size: 500ml
Origin: Brazil
Importer: UP-COM International
*Check to ensure your currency matches your country*
*All of our products are made 100% from pure, raw ingredients, left untouched in their natural state and without the use of harmful chemicals, wastewater, animal byproducts, and GMOs. This means we are vegan-friendly and organic however we are currently working towards Organic Certification. 
MONEYBACK GUARANTEE - We at PURO PURA guarantee that if you are not satisfied with your purchase you will be refunded. Please reach out to us via email at info@puropura.com if you have any issues or questions regarding our products.
Share
View full details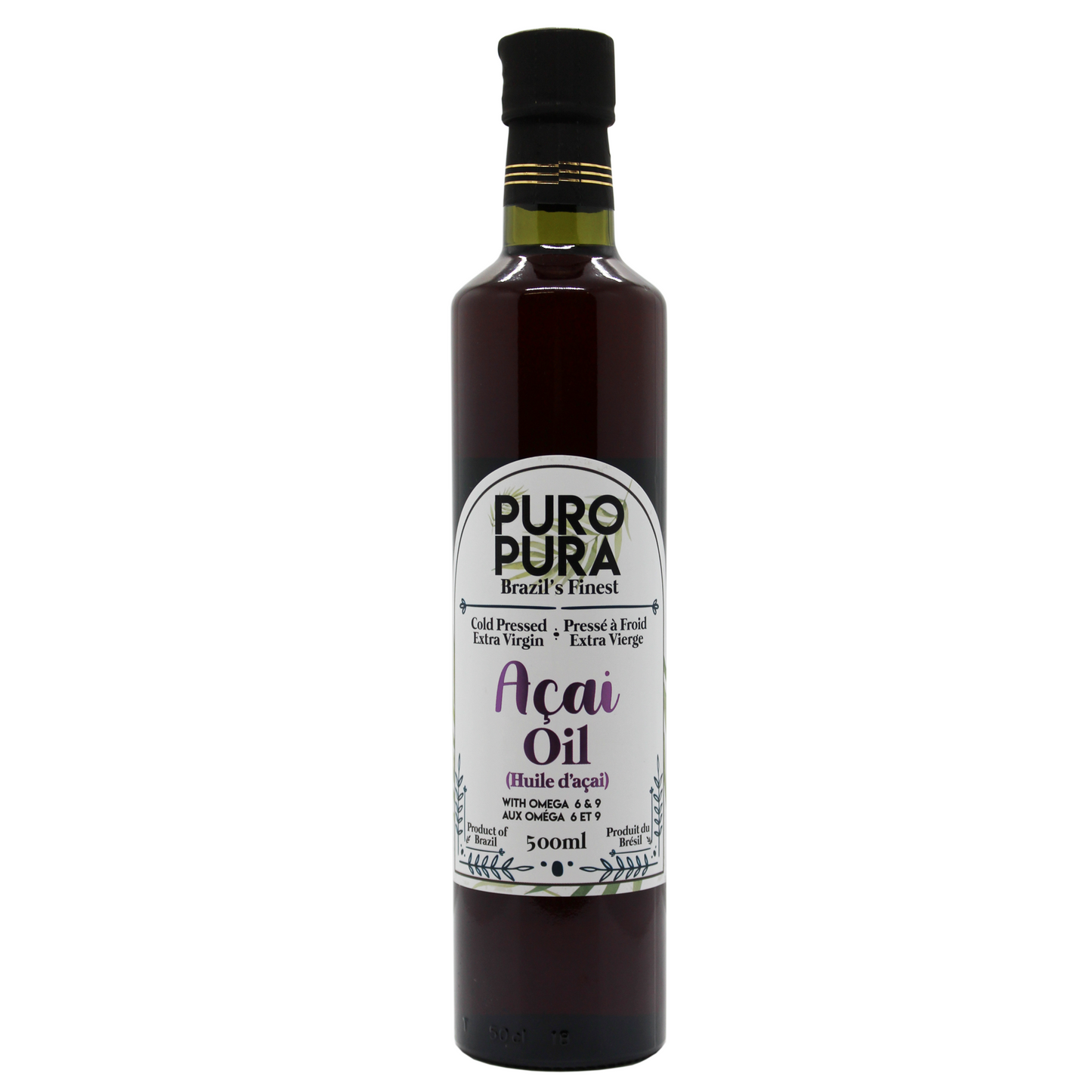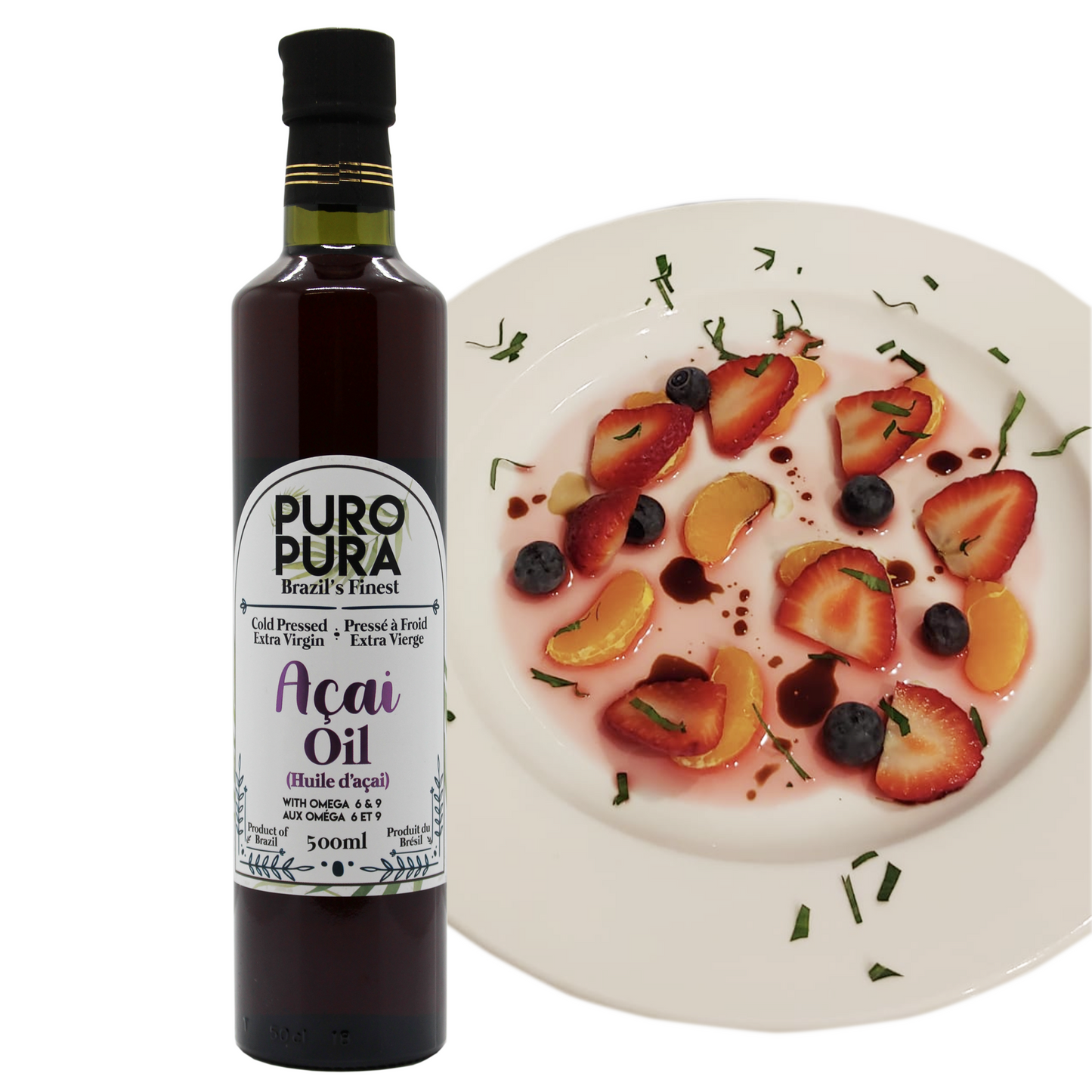 Let customers speak for us
I finally got the oil it is great, and the other oil is fantastic , the replacement ain't the original order I placed but you gave me product thanks ".
Good product
I love this product, it stimulates growth of my hair and also good for dry skin.
Acai oil
I take some before bed I've noticed my stomach is down a little. And skin is glowing.
Fabulous and Unique Oil for Skincare
The color of this oil is so different from standard Acai pulp skincare oil. It is absolutely beautiful and serum-like. Delivery was extremely fast. Keep these unrefined unique oils coming, and I'll definitely purchase them all!