Regular price
Sale price
$19.00 USD
Unit price
per
Sale
Sold out
Introducing our premium passion fruit oil - a versatile and delicious addition to your kitchen and skincare routine. Our passion fruit oil is derived from the seeds of the passion fruit, a tropical fruit that grows on vines in warm climates.
Our passion fruit oil is carefully extracted using a cold-pressed method, ensuring that the natural benefits of the fruit are preserved. It is rich in vitamins A and C, essential fatty acids, and antioxidants, all of which contribute to its moisturizing, nourishing, and protective properties.
Not only is our passion fruit oil perfect for use in skincare, but it is also edible and adds a unique and delicious flavor to a variety of dishes. Drizzle it over salads, use it as a marinade for meats and seafood, or mix it into smoothies and cocktails. Its sweet and tangy flavor profile pairs perfectly with both sweet and savory dishes.
Our passion fruit oil is sustainably sourced and ethically produced, ensuring that our customers get a high-quality product that is both environmentally friendly and socially responsible. It is also vegan, cruelty-free, and free of harmful chemicals, making it a safe and natural culinary and skincare option.
Incorporate our passion fruit oil into your kitchen and skincare routine and experience the natural and transformative benefits of this tropical superfruit. Enjoy its delicious flavor and revel in the feeling of healthy and radiant skin.
Product Specifications:
Store in a Cool, Dark place, away from sunlight
Smoke Point: 411 Degrees Fahrenheit
Serving Size - 1 TBSP (15ml) 
Calories - 123
Total Fat - 13.6g
Omega 6 - 9.4g
Omega 9 - 2.0g
Sugars - 0g
*All of our products are made 100% from pure, raw ingredients, left untouched in their natural state and without the use of harmful chemicals, wastewater, animal byproducts, and GMOs. This means we are vegan-friendly and organic however we are currently working towards Organic Certification.*

*Check to ensure your currency matches your country*

MONEYBACK GUARANTEE - We at PURO PURA guarantee that if you are not satisfied with your purchase you will be refunded. Please reach out to us via email at info@puropura.com if you have any issues or questions regarding our products.
Share
View full details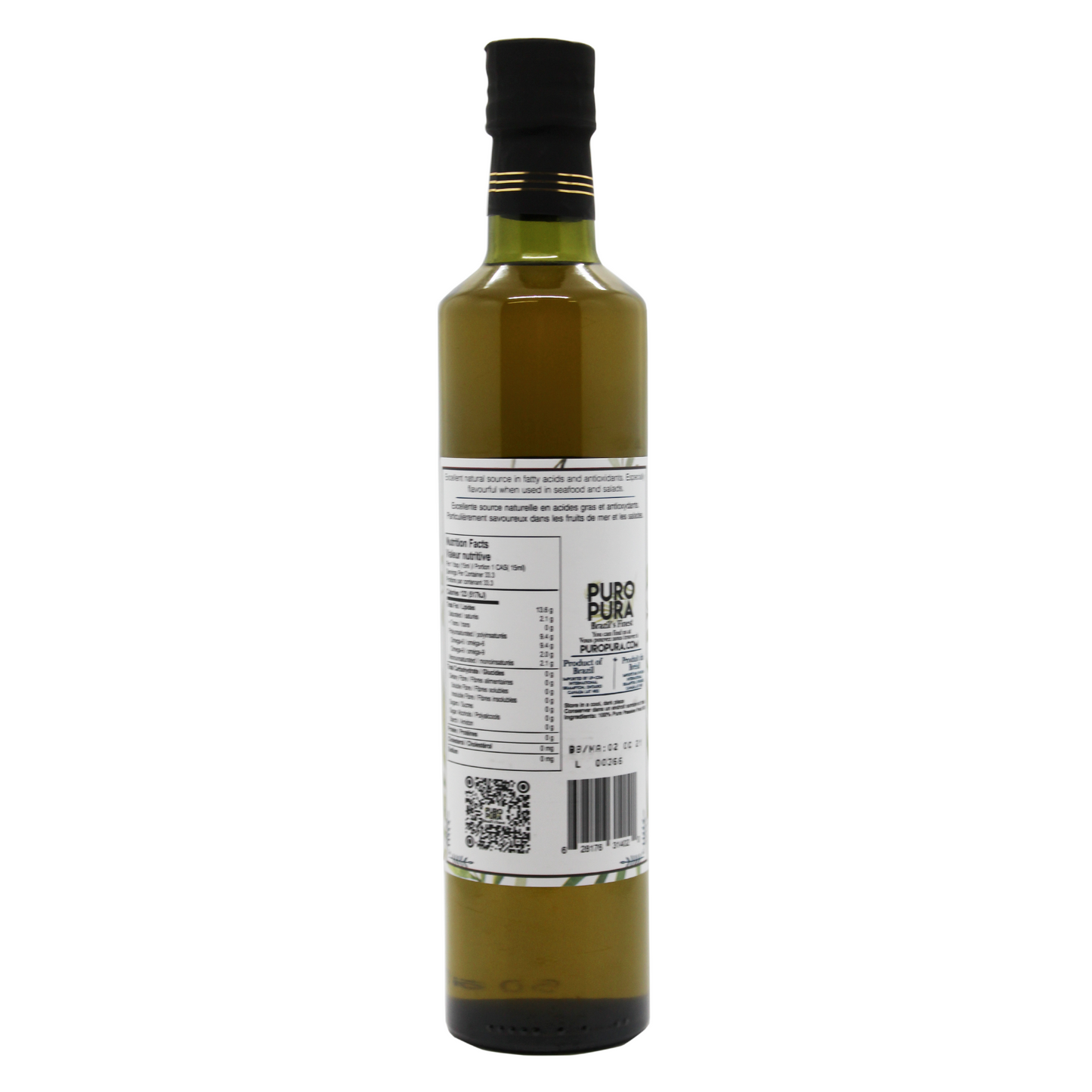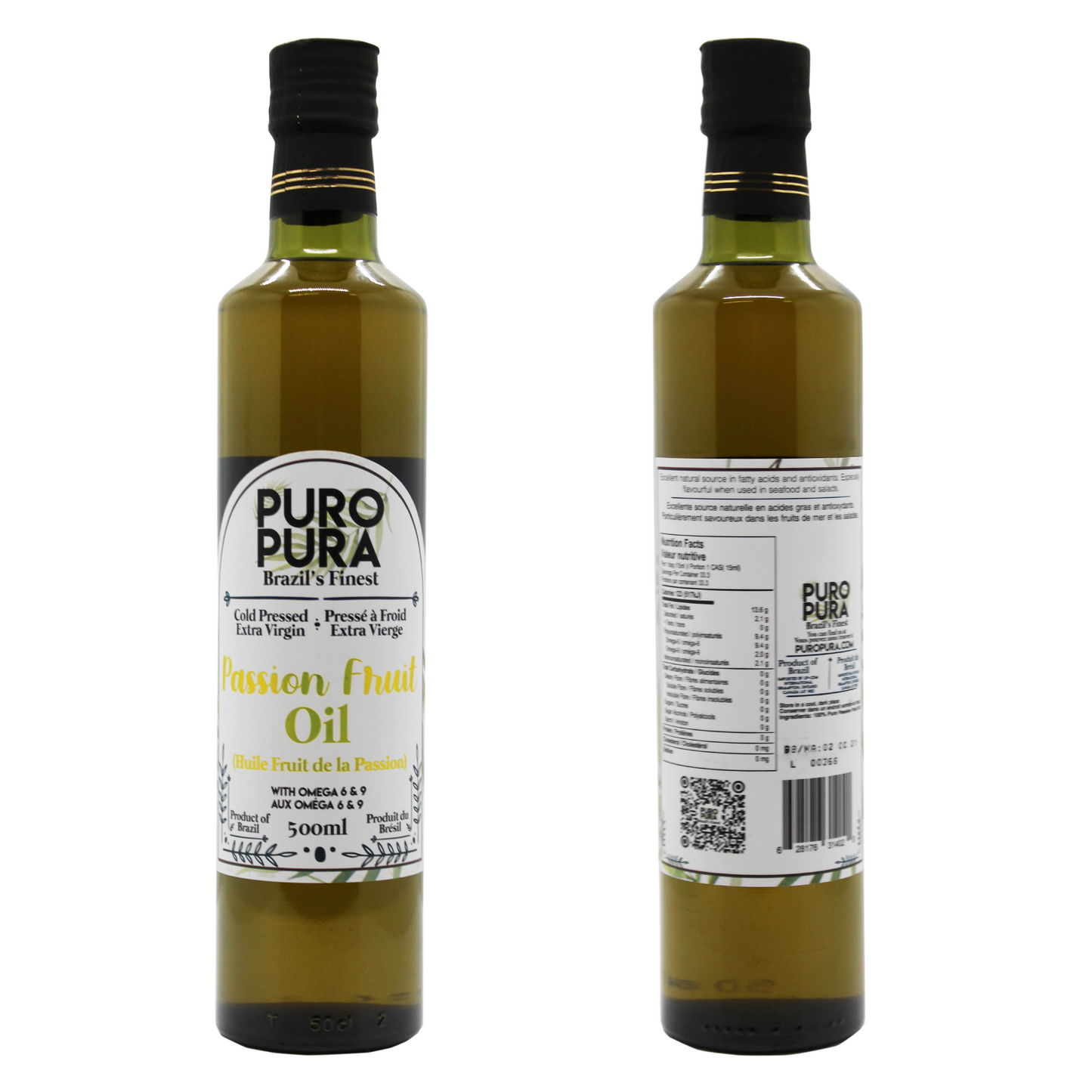 Let customers speak for us
Excellents produits
L'huile d'Açai est excellente ! Je suis contente de mon achat.
J'ai commandé aussi l'huile de fruit de la passion que j'ai offert.
Je recommanderai vivement !
Merci pour le trés bon service à la clientèle.
Extra virgin passion fruit oil
Love it
Add to my salads smells just like passion fruit
Bought acai oil too
Also love it
Beautiful Oil
This oil is gorgeous! I light golden colour and very faint aroma. I feel like you could use it for anything!
Puro Pura Passion Fruit oil - Health in a bottle !
Wow, what can I say? This delicate, lovely oil is wonderful. Easy on the palate. Enjoyable. And oh so vey beneficial. I enjoy ingesting it on a daily basis. Whether by the tablespoon or drizzling on my fish and seafood. Even in my smoothie. I love applying the passion fruit oil on my face and neck too. It is such an amazing nutrient dense oil. I have achieved so many health benefits from this beautiful pure oil. Love, love, love Puro Pura Passion Fruit oil !!!!
Excellent product !
I tried the passion fruit oil today on my wild caught argentinian shrimp. OMG !! Incredible, delicious, and fantastic. I also used it on my local non GMO corn on the cob. Wow !! I am very impressed with quality, flavour and taste. So good !!!! I am looking forward to using it on my face too. Thank you so much for this outstanding oil. !! Olga Hallett